Arthur George SILK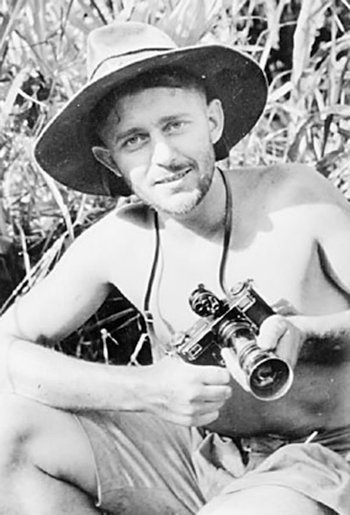 George Silk was born in Levin in 1916.
He first took up photography as a hobby in his youth. He attended Auckland Grammar School after which he learned his craft whilst working in a camera store.
In 1939 he offered his services to the NZ Government to be a war photographer. He was turned down so he offered his services to the Australian Prime Minister and was hired.
He covered war zones in the Middle East, North Africa, Greece, Crete and New Guinea for the Australians.
He was captured in Tobruk, Libya by Rommel's soldiers, but escaped after 10 days.
Later that year in New Guinea he took what was probably his most famous photo. It was of a blinded Australian soldier being led to a field hospital by a Papuan. The photo was taken during the 300 mile trek on the Kokoda Trail. This iconic image is still revered in Australia and is reproduced in a bronze statute.
This image was the one that got him hired by the American Life magazine the following year.
Life sent him to Europe to follow American forces there, during which he survived a glider crash. He was wounded by a grenade and was involved in the 'Battle of the Bulge' campaign.
At the end of the war he commandeered a B29 to take aerial photos of devastated Japan including after the Nagasaki atomic bomb was dropped.
After the war he turned his hand to adventure sports and exploration stories, the Olympics, America's Cup, conservation and children. He became a specialist in outdoor sports photography.
George was respected for his versatility, persistence, courage and doing whatever it took to 'get the picture'.
George marred Margery Schieber in 1947 the year he took out US citizenship. They had three children.
He died in 2004 in Norwark, Connecticut.
Relatives mentioned in profile:
Arthur George Silk, Margery Gray Schieber, Arthur Alfred Silk, Emma Constance Naylor, Lillian Louise Silk, Albert Cooke, Sylvia Constance Silk, Philip Bond, Ivy Iola Silk, George Morgan, Ivan Nelmes Silk, Stuart Naylor Silk, Georgiana Bulfinch Silk, Shelley Gray Silk, Wehrly