Carlos James SPENCER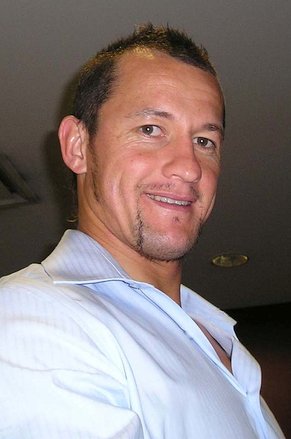 Carlos Spencer was born in Levin in 1975.
He attended Taitoko Primary School, Levin Intermediate & Waiopehu College.
From early on he was a natural sportsman, 'amazing at anything he tried' observed a mate. He raced BMX and was a gifted softballer. He made the 'Rest' age group softball teams from under 14's to under 16 in 1990 & 1991.
Schoolboy rugby was where he first turned heads. At the age of 16, while still at college, he played 1st class rugby for Horowhenua Kapiti in the NPC 3rd division. In 1992 he was in the NZ Secondary Schools team. In 1993 he showed glimpses of his promise with a Ranfurly Shield game, at home, against Auckland. This brought him to the attention of Graham Henry who persuaded Carlos to move to Auckland to play for Auckland and eventually the Blues super rugby team.
Over the next few years of his rugby career he was constantly in competition with Andrew Mehrtens, from Canterbury and the Crusaders.
They also both competed for the 1st five spot in the All Blacks. He eventually made his All Black debut against Argentina in 1997. His last All Black game was against Australia in 2004. Carlos also played for the NZ Maori, between 1994 and 2006, a team that he cherished playing for.
He then moved overseas. He played for Northampton Saints between 2005 and 2009, and then Gloucester. He also played four games for the World XV in 2006.
He then moved to South Africa as player coach for the Lions super team for three seasons, then one season for the Sharks and one for the Kings. He moved back to New Zealand to settle in Hamilton in 2015.
Carlos was known as an attacker with a flair for the unorthodox and the unexpected. He was often referred to as "King Carlos".
He played 280 1st class games in New Zealand, scoring 1,896 points including 102 tries. This included 44 games (35 tests) for the All Blacks, 10 games for NZ Maori, 18 games for Horowhenu Kapiti, 89 games for Auckland and 99 games for the Blues.
Relatives mentioned in profile:
Carlos James Spencer, Jodene Maree Williams, Graham Bailey, Queenie (known as 'Wiki') Toria, Fabian Kyle Spencer, Payton Cruz Spencer, Asha Janet Jean Spencer, Graham Spencer
We thank the following sponsors of this plaque: