Collis John & Helen Louise BLAKE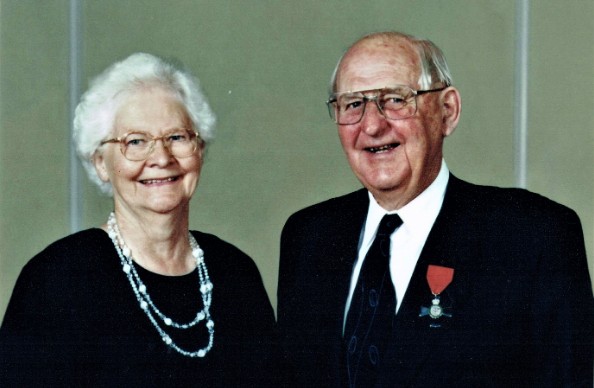 Collis Blake's name is fondly remembered by a generation of farmers across the length and breadth of this country. In the 1980s, when the government's policies were radically altered in an economic reform dubbed 'Rogernomics', many hundreds of farmers were unable to repay their debts, facing foreclosure and an end to their lives on the land. This was also the hardest, yet finest, period of Collis's career as a farmer.
First, he found ways to stop farm mortgagee sales from going through by mobilising protest groups to block them, and then through the formation of the Provincial Support Group, he negotiated with the banks a restructuring of farm debt nationwide. Succeeding generations of farmers today might well owe their continued living off the land to this man, who was born in Otaki in 1931 and spent his working life farming in Horowhenua – at Manakau and Ihakara.
None of this would have been possible but for the intimate partnership at home and at work with his wife Helen, a city girl from Wellington, born in 1936, who adapted almost effortlessly to a very different way of life. Together, through hard work, great business acumen and an openness to new ideas, they created a highly profitable farming business in dairy, sheep, beef and crops. This gave them a strong financial base from which to make many significant contributions in later life to the district's community.
The most prominent of their projects was spearheading the creation of the Levin Adventure Park in 2001 that finally made perfect use of an abandoned site where children had learned and played for more than 90 years since the birth of Levin - the original Levin School on Oxford Street.
Collis died in 2012, but Helen – in her mid-80s - is still bound to charitable causes now based in Auckland, the most recent of which is co-funding a Community Spectacle Scheme for people with limited means to access eye care.
Relatives mentioned in profile:
Collis John Blake, Helen Louise Cox, Susan Louise Blake, Barbara Mary Blake, David Blake, Hazel Moffatt, Jack Blake, Maud Blake, Herbert Moffatt, Julia Moffatt, George Cox, Edna Cox.
We thank the following sponsors of this plaque: