George Leslie ADKIN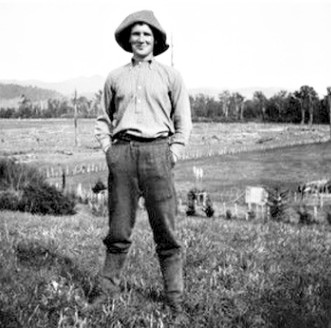 Although an early Horowhenua farmer by occupation, Leslie Adkin has achieved enduring national recognition as a prodigious photographer, cartographer, author, amateur geologist and archaeologist.
His vast collection of high-quality photos, 7,500 of them mostly held at Te Papa Tongarewa Museum of New Zealand, his detailed diaries and maps, and his book "Horowhenua" captured the life, cultures, landscapes, and pioneering developments through the first decades of the 20th Century as the settlement of Levin established itself.
With his remarkably accurate mapping, Leslie led the way in making the northern Tararua Ranges an accessible and relatively safe place for trampers of all levels to explore.  He became a founder member of the Levin-Waiopehu Tramping Club in 1927. Without any formal training, his theories on the ranges' geological composition came, eventually, to be acknowledged by his professional superiors, as did his observations on potential safety shortcomings in the construction of the Mangahao power station near Shannon in the 1920s.    
After moving to Wellington in later life, Leslie replicated his Horowhenua work with a geological study of the Wellington region published in the book "The Great Harbour of Tara". He was a much-valued member of conservation-focussed organisations and a sought-after guest speaker in this world.
For almost 50 years he was married to Maud and had two children, Nancy and Clyde.
Relatives mentioned in profile:
George Leslie Adkin, Elizabeth Maud Herd, William George Adkin, Annie Jane Denton, Edith Claire Adkin, James Caldwell Gardner, Gilbert Denton Adkin, Ivy Bennett, Dora Isobel Adkin, Ronald Joseph Law, Ethel Marjorie Adkin, George Broomfield, Kate Vivian Adkin, Clifford Adkin, Tui Moana Dyer, Nancy Florence Adkin, Clyde Goulding Adkin.
We thank the following sponsors of this plaque:
D W & A C Greig, C M & D Bennet, Bruce W Adkin, C C Adkin, R A Adkin, S M Adkin