Terence Michael McCASHIN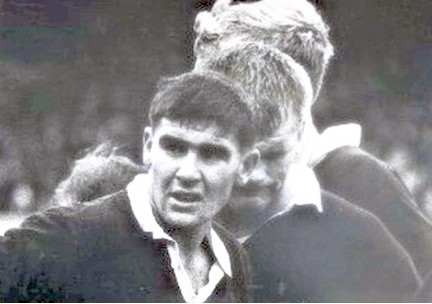 There are dual and equally valid reasons for Terry McCashin's inclusion in the Horowhenua 'Walk of Fame'. First, he was one of the few All Blacks to emanate from this district and second, he pioneered this country's thirst for 'craft' beer.
Born in Palmerston North in 1944, Terry grew up in Levin where his father had established a carrying business, McCashin Transport, and was a coach and selector of the Horowhenua rugby team.
Terry made his representative debut for Horowhenua as a hooker in 1963, and toured Australia with the New Zealand under-23 team the following year. Moving to Wellington, he was selected in the New Zealand Juniors side that played the British and Irish Lions in 1966.  The first-choice hooker for Wellington by 1967, he became All Black no. 674 for the 1968 tour of Australia and Fiji, understudy to Bruce McLeod. McLeod played every test, restricting Terry to playing the non-international games, 7 in all. He was the test reserve to McLeod again in 1969, but after that was overlooked by the All Blacks selectors and finished his playing days with Wellington, King County and Marlborough. 
Terry became a publican as his rugby career trailed off, and after owning a couple of pubs he and his wife Bev were inspired to set up their own brewing business in Stoke, near Nelson. 'Mac's' craft beer hit the bottle store shelves in 1981 at a time when the industry was dominated by just two major breweries – New Zealand (Lion) and Dominion. Beer drinkers were drawn to 'Mac's' distinctive brand and flavours, the craft beer boom took off and, thereafter, the big breweries would have a new, distinctive sector of competition to cope with. 
After two decades, and a heart attack suffered by Terry, the McCashins sold out to Lion in the 2000s. But in 2009 their eldest son, Dean, recreated the business in the old brewery under the 'Stoke' brand and re-established the family as independent craft beer market leaders. Youngest son Scott is now the latest McCashin to carry this on.
Terry retired to Canterbury and passed away in 2017 at the age of 73.
Relatives mentioned in profile:
Terence Michael McCashin, Beverley McDonald, Brian Leonard McCashin, Thelma Josephine Terry, Patricia Anne McCashin, Beverley Joan McCashin, Brian Joseph McCashin, Kevin John McCashin, Shaun Anthony McCashin, Colleen Marie McCashin, Pauline Mary McCashin, Dean McCashin, Maria McCashin, Todd McCashin, Scott McCashin, Anna McCashin.
We thank the following sponsors of this plaque: