William Frederick & Caroline Frances DOREEN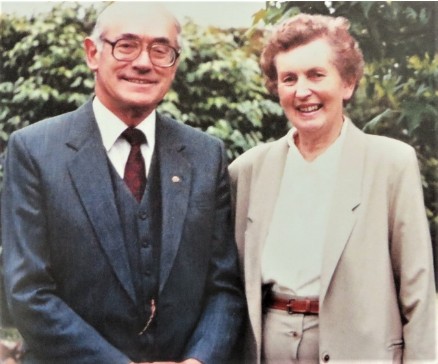 Both Bill Doreen and Carol Eriksen grew up in the Wellington area – Bill in Houghton Valley, and Carol in the Hutt Valley – during the straitened, depression years of the 1930s. But they each belonged to caring, encouraging parents who set them on their separate firm paths towards mutual success later in life. Carol was Dux of Sacred Heart College in Lower Hutt and then worked in a Wellington office learning about wages, taxes and auditing. Bill was less accomplished at school but, embedded among keen gardeners in his family, he knew where he was heading and the first step was gaining his Diploma in Horticulture at Massey Agricultural College in 1952.
The couple met at a dance in Wellington and were married in 1953.
A job for Bill with rose growers, Avenue Nurseries, brought them to Levin shortly afterwards. Soon Bill was awarded the post of grounds supervisor at the site of a new sanatorium to be built in Liverpool Street, but when a cure was found for tuberculosis, the building plans were shelved. This was the spur for the couple to launch into their own business. A milk round helped create enough capital to buy 10 acres of land in Fairfield Road in 1954 and their lily-growing business would become established there. Bill had developed a particular passion for lilies under his mentor at Massey, Dr John Yeates, from whom he bought his first stock.
Their breakthrough into prominence came when Bill was invited to supply lilies to decorate Government House for the visit of the Queen in 1963, and the next year he appeared on the television series 'In Your Garden'. They showed their blooms at conventions across Australasia and caught the attention of growers from the United States, leading to an invitation to address a convention there in 1968. The same year, their business took on the name 'Lilies International' and thereafter they began selling bulbs and later cut flowers around the world, in North America, Europe and Asia.
Carol became adept at packing, dispatching and marketing the cut flowers while Bill developed his skills as a hybridiser to the extent that one of his creations, 'Casa Blanca', became one of the largest-selling blooms in the world. Awards and continual invitations to address lily conventions both nationally and internationally followed, along with many jobs and a very positive profile for Levin and the Horowhenua.
Relatives mentioned in profile:
William Frederick Doreen, Caroline Frances Eriksen, Frank Doreen, Ida Woodruffe, Benjamin Ruben Dore, Hilda Hancock, Laurance Ramskill Woodruffe, Janet (Jessie) Harre, Harold Doreen, Henri Doreen, Francis (Frank) William Eriksen, Kathleen Knight, James Kemp Eriksen, Mary Ann Cain, Alexander Knight, Caroline Murray, Kemp Eriksen, Kathleen (Kathy) Eriksen, Lorraine Eriksen, Warwick Francis Doreen, Murray William Doreen, Jonathan Michael Doreen, Rosemary Carol Doreen.
We thank the following sponsors of this plaque: